From 12th September, the MVP led TechDays Online we will be broadcasting live from the Microsoft Campus in Reading. Building on the success of the online event in May, we will be working with our leading MVPs and Community Leaders to deliver bite-size technical sessions that offer a real-world perspective on how our technology is, and can be used by customers and partners.  The 5 day agenda is packed full of community led conversations, demonstrations and how to technical information.  We will be covering; DevOps, the Data Platform, BOTs, HoloLens, Microsoft Azure, IOT along with innovations from the team at Microsoft Research Cambridge.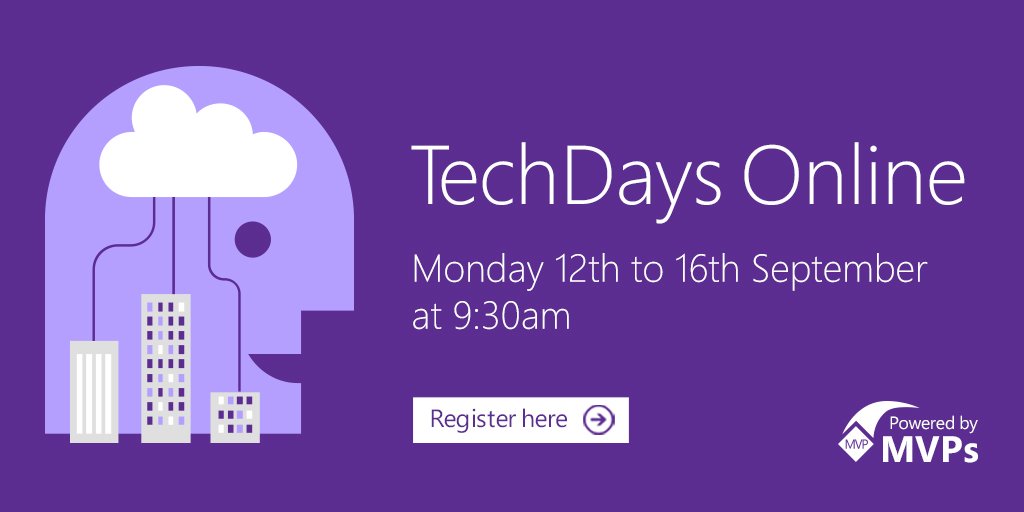 This event will be taking place at the Microsoft Campus in Reading and each day will offer the following topics:
· Monday, 12 September: Explore the world of Data Platform and BOTs
· Tuesday, 13 September: DevOps in practice
· Wednesday, 14 September: A day at the Office!
· Thursday, 15 September: The inside track on Azure and UK Datacenter
· Friday, 16 September: Find out more about Artificial Intelligence
Get your Free Ticked here.
Link: https://www.eventbrite.co.uk/e/techdays-online-september-2016-led-by-mvps-tickets-27251539087?ref=estw
Follow Me on Twitter @ClusterMVP
Follow My blog https://robertsmit.wordpress.com
Linkedin Profile Http://nl.linkedin.com/in/robertsmit
Google Me : https://www.google.nl
Bing Me : http://tinyurl.com/j6ny39w