It is a true honor to get awarded for the 10th time as an Microsoft Most Valuable Professional (MVP).
I received an e-mail from Microsoft and I am happy, honored and proud to share that I have been re-awarded as Microsoft Most Valuable Professional (MVP) 2019
The Microsoft Most Valuable Professional (MVP) program is, according to Microsoft, given to "technology experts who passionately share their knowledge with the community". It is a distinction that Microsoft awards to non-Microsoft employees who help other members of the development communities, either by answering (correctly!) to questions in forums, writing blog posts, presenting at events, making sample code available, among others. The award is granted on a yearly basis and it is possible to receive it multiple times. It is a way for Microsoft to show their appreciation to those who care and spend their time helping others. Above all and in addition to their amazing technical abilities, MVPs are always willing to help others – that's what sets them apart.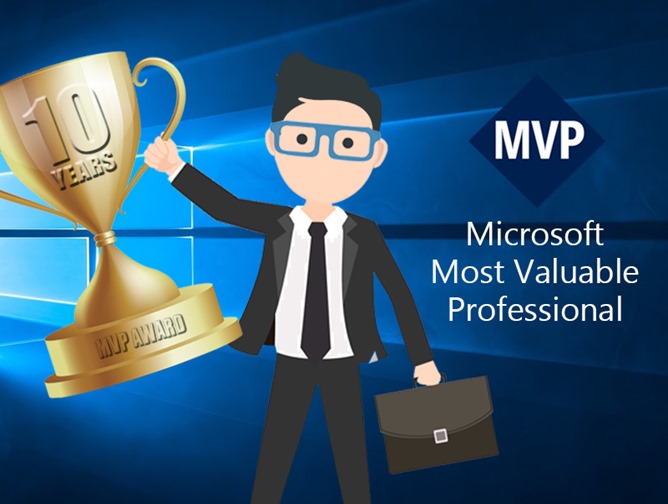 I was first awarded MVP in 2009, back then I was in a category called High Availability which got merged into Cloud and Datacenter Management. I those days Tech-Ed was the Ignite from now and Symon Perriman was Program Manager – Server Clustering & High Availability. I was very busy with SQL Cluster and File Cluster. As Building MOM (Microsoft Operations Manager) packs to monitor all kinds of applications. I was involved in In a lot off beta testing, so I may have gotten Microsoft's attention.
MVPs don't receive any payment whatsoever from Microsoft. We don't have to follow their instructions or are in any way told what to do, but we do have a code of conduct and are bound to certain rules, like, do not disclose confidential information that we are given by Microsoft.
One of the benefits of being a Microsoft Most Valuable Professional (MVP) is the chance to attend the Global Summit. The MVP Global Summit is where all the MVPs in the world get together in Bellevue and Redmond, WA. In recent years, it was usually held in November, but this year got moved close to Spring (March 4-7).
To Keep my MVP Award I'm doing Ask the Experts / Ask me anything on the Cloud Roadshows / Techdays or other events where possible. Answer Community Questions where I can.  Be a Windows Insider get you the Early bit of the software and is a great place to meet other community members.  As the Microsoft Tech Community  has his own platform with great options to connect to other members. There are also a lot of Yammer groups, As Azure Advisory and Azure previews. This makes it also hard to BLOG, not that there is no content or time (well a bit) there are great items but as the most is covered with the NDA. It is waiting on the release moments of the products so that I can release the blogs, often I write blogs from the first versions and in the final release the screens or options are different. But it is a great way to help shape the product and interact with the product teams and do interviews or join product group sessions.
Next to my job as EMEA Cloud Solution Architect with Insight.com This roll ask also a lot of my time and I don't know how long I can keep up doing both. But for now I'm real happy to be re-awarded as Microsoft Most Valuable Professional (MVP) 2019
Thank you Community for reading my blog , Follow me on twitter Thank You.
Again a big Thank You Community for following me and reading my blog Thanks
Follow Me on Twitter @ClusterMVP
Follow My blog https://robertsmit.wordpress.com
Linkedin Profile Robert Smit MVP Linkedin profile
Google  : Robert Smit MVP profile